Leaderboards
Contents
Since 2015, several approaches have been taken to Task 1, and even though the performances are increasing, there is still a lot to be done (see the Leaderboard for more detailed results).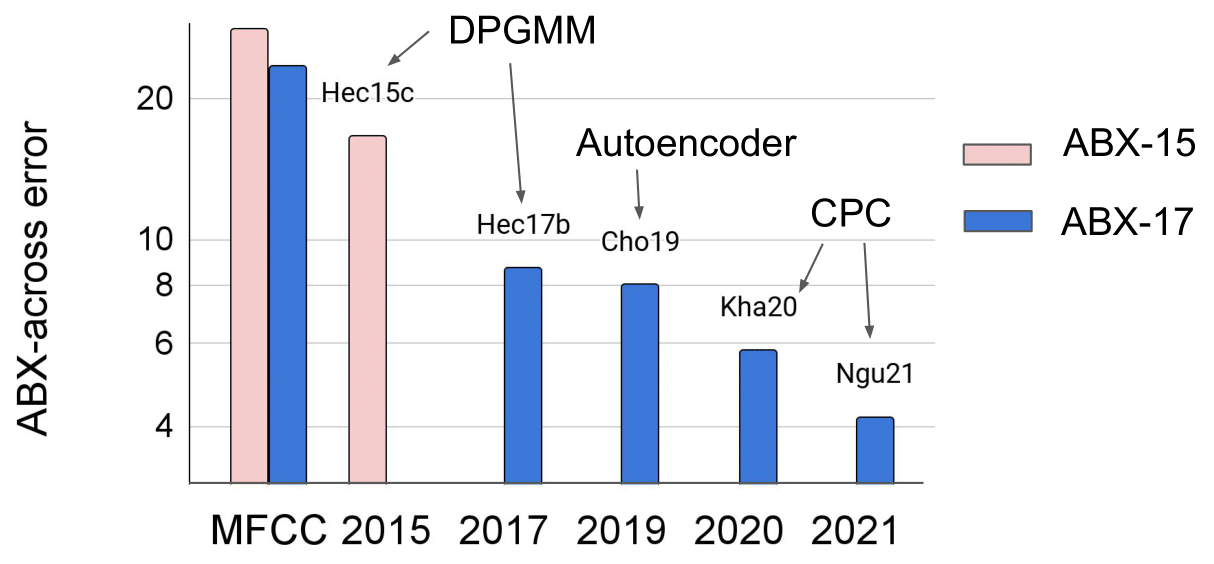 More recently, Hallap et al (2022) examined in detail whether systems learned context-dependent allophone representations or something more like context-independent phoneme representations - now available in the ABX-LS benchmark (see below for detailed results).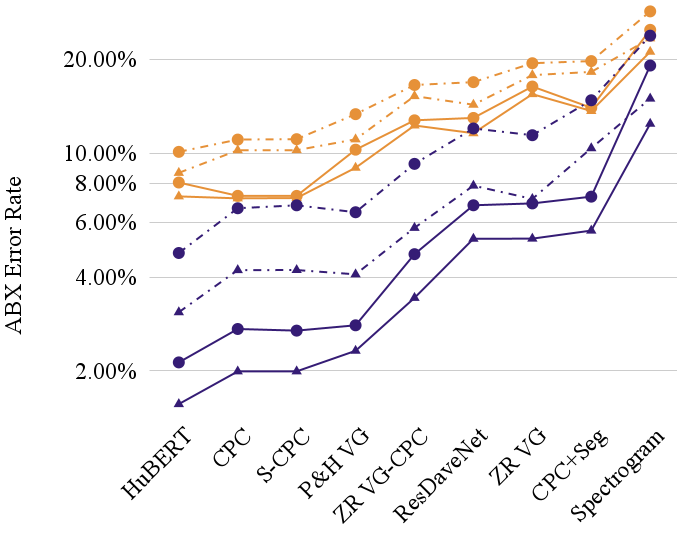 The results, shown in Figure 2, demonstrate that ABX tests which do not control for the phonological context (e.g., comparing the centre phone of the word cat /kæt/ with the centre phone of the word dog /dɔɡ/ ) show much poorer results with current systems (indicated in orange in the graph) than when the context is controlled (e.g., comparing the centre phone of cat versus cot /kɔt/) as indicated in purple - the error rate increases by a factor of roughly 400% in some cases! This is a much greater penalty than is seen for within- versus across-speaker (triangle versus circle) or for the clean versus other subsets of LibriSpeech (solid versus dotted). This suggests that context-independence of the learned units is still relatively poor.
ABX-15 Leaderboard
English
Xitsonga
#
Author
Model ID
across
within
across
within

Table 1. ABX-15 Leaderboard
ABX-17 Leaderboard
English
French
Mandarin
German
Wolof
1s
10s
120s
1s
10s
120s
1s
10s
120s
1s
10s
120s
1s
10s
120s
#
Author
Model ID
A
W
A
W
A
W
A
W
A
W
A
W
A
W
A
W
A
W
A
W
A
W
A
W
A
W
A
W
A
W
#
Author
Model ID
A
W
A
W
A
W
A
W
A
W
A
W
A
W
A
W
A
W
A
W
A
W
A
W
A
W
A
W
A
W
1s
10s
120s
1s
10s
120s
1s
10s
120s
1s
10s
120s
1s
10s
120s
English
French
Mandarin
German
Wolof

Table 1. ABX-17 Leaderboard
ABX-LS Leaderboard
AS: Across Speaker

WS: Within Speaker
granularity
triphone-based (Classic)
phoneme-based
context
within
within
any
sub-set
clean
other
clean
other
clean
other
#
Details
Author
Model ID
Budget
AS
WS
AS
WS
AS
WS
AS
WS
AS
WS
AS
WS